From the Shelf
A Good Month to Read a Short Story
"I would really hope this would make people see the short story as an important art, not just something you played around with until you got a novel," Alice Munro said after winning the Nobel Prize in Literature last fall. I hope so, too. If you already read Munro and know that May is Short Story Month, then my work here is done. If not, allow me to spin you a brief tale.

When I think about short fiction, it's not really collections that come to mind, but particular stories. All kinds of stories. I can summon titles that open again in my memory like fans: Grace Paley's "Wants," James Baldwin's "Sonny's Blues," Colum McCann's "Fishing the Sloe-Black River," Tillie Olsen's "I Stand Here Ironing," Jim Shepard's "Batting Against Castro," T.C. Boyle's "Beat," Yasunari Kawabata's "First Snow on Fuji," Jamaica Kincaid's "Girl." We don't memorize short stories like we memorize poems, but something tangible, recoverable, lingers from the stories that strike us most deeply.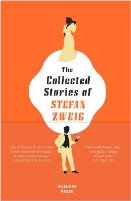 Inspired by Wes Anderson's new film The Grand Budapest Hotel, I've been reading The Collected Stories of Stefan Zweig. It's an extraordinary collection. One tale in particular that has lingered is "Mendel the Bibliophile," in which Zweig writes that "you create books solely to forge links with others even after your own death, thus defending yourself against the inexorable adversary of all life, transience and oblivion."

A month of stories is not enough, of course, any more than a year or a lifetime of stories would be. But if you're looking for something new to read, why not check out some of the collections we've reviewed here in May: Chestnut Street by Maeve Binchy, Thunderstruck by Elizabeth McCracken, The Wall: And Other Stories by Jurek Becker and American Innovations: Stories by Rivka Galchen. Celebrate Short Story Month before it's too late. Okay, there's no deadline. You can read some in June, too. --Robert Gray, contributing editor

In this Issue...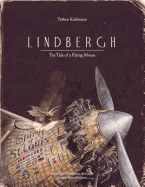 The accomplished artwork of debut German author-artist Torben Kuhlmann features an enchanting mouse hero.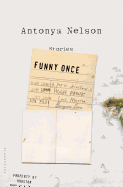 These wry stories take us to familiar places where infidelity, inebriation and infirmity wreak havoc.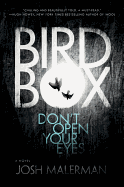 A chilling debut in which a woman cannot look at what lurks outside the door if she has any hope for survival.
Review by Subjects:
Fiction ⋅ Mystery & Thriller ⋅ Science Fiction & Fantasy ⋅ Biography & Memoir ⋅ Essays & Criticism ⋅ Science ⋅ Children's & Young Adult

Book Candy
Beach Reads; Organizing Your Books
Beach Reads: It's that time of year when everyone has a summer reading suggestion or three for you, including Flavorwire's "Summer reading: 20 new nonfiction books that will make you smarter," the Boston Globe's "summer reading suggestions," Vulture's "6 books to read this summer," Buzzfeed's "22 books you need to read this summer," Guest of a Guest's "summer reading list: 8 Hamptons-based books for the beach" and the New Republic's "9 smart, entertaining new books to get you through the summer." Stay tuned, because there'll be more coming soon.

---

I now pronounce you muggle & muggle. Meredith Fahey and Joshua Votaw "always knew they wanted a book-themed wedding," but Buzzfeed noted that their "incredible Harry Potter-themed wedding puts all other weddings to shame."

---

John Green shared "47 charming facts about children's books" at Mental Floss.

---

Something's brewing: Beau's All Natural is teaming up with award-winning Canadian writers and long-time environmental activists Margaret Atwood and Graeme Gibson to create "an inspired new gruit ale," which will raise funds for the Pelee Island Bird Observatory.

---

Literary real estate notice: "You can live in Ray Bradbury's house for just $1.5 million," Jacket Copy reported.

---

Organizing personal libraries seems to be a popular topic lately. The Washington Post offered tips on "decluttering your bookcases." Author Linda Grant explained why she decided "to murder her library" in the Guardian. Apartment Therapy featured a Barcelona apartment with a library "built into the staircase to hold a bunch of books, which appears to be about the only color in the space at the moment." And CBS Sunday Morning featured "bespoke libraries, joining book love with interior design."

The Writer's Life
Sarah Lotz: Confronting Her Fears with Words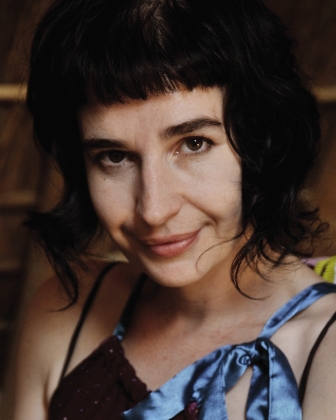 photo: Christine Fourie
South African author Sarah Lotz collaborates with her daughter, Savannah, on a YA zombie series published under the pseudonym Lily Herne. Sarah Lotz also writes urban horror novels with Louis Greenberg; they use the pen name S.L. Grey.
This month, under her own name, Lotz's first solo novel, The Three (see our review below), is being published. Booksellers have been buzzing about it for months, and a U.K. production company has optioned the TV rights and plans to turn the book and its sequel into an international miniseries.
You've said you like to confront your fears, and that you're afraid of flying, so you had to write about plane crashes in The Three. How did you handle reading grisly facts while researching? Did it help lessen your fears or do you now need to be sedated when flying?
I found it very upsetting. When I first had the idea for the novel, I'd underestimated the amount of research I'd have to do. Reading transcripts of the last moments of plane crashes made me feel physically ill and gave me nightmares. I've had to do a lot of flying lately, so I'm learning to be fatalistic about it. It's that or basically become addicted to Valium or booze, which isn't an option. I have too many deadlines!
The coincidence of this book's release while Malaysia Airlines Flight 370 remains missing is spooky. What was your reaction when you heard about all the conspiracy theories about the plane, a kind of frenzy that also occurred in The Three after the crashes?
It was disconcerting to see how closely it mirrored the events in the novel, especially the countless blogs that proclaimed it was a sign of the Rapture. Weirdly, even though I'd written the book a year before the tragedy, watching it all unfold made me feel guilty, almost as if I was profiting from a tragedy. I know this isn't rational, but I can't quite shake the feeling.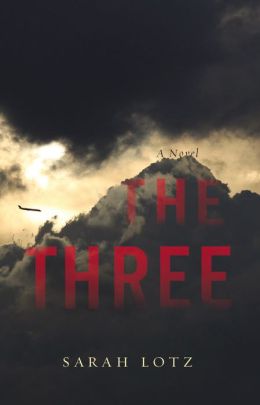 You nailed the voices of the many different characters, who include Southern religious women, a British actor, a prostitute and Japanese teenagers. Which were easiest to write and which voices did you find most challenging?
Thank you! Paul Craddock, the British actor and guardian of Jessica, one of the child survivors, was the easiest to write, probably because I identified with him the most.
Why him?
I think I identified with his insecurity and sense of failure, which he masks with sarcasm. As an actor, he works in a precarious profession and hasn't reached the heights he was hoping for. I reckon everyone who works in the arts can relate to this; acting especially is such a precarious industry--as is writing! It took me years before I could afford to write for a living, and I consider myself extremely lucky that I'm able to do so now, but there were many times when I felt like I'd failed at it.
I recently read a review of The Three that said [Paul] was the least convincing character in the novel, which I found fascinating, and just goes to show you can never be too complacent when writing anything.
The most challenging aspects of the novel weren't the voices, but the newspaper articles that tie the action together. I struggled with those, I think because I kept wanting to embellish them with quirky, unnecessary detail. They needed to be concise and to the point, which took me out of my comfort zone.
So, The Three will have a sequel called Day Four? When can we expect that?
I can't say too much about Day Four without major spoilers, except to say it's not necessarily a sequel. I'm hoping it will be out next year if my editor deems it worthy. You're the first person I've told about this, but there is a surprise coming up for any readers who might want more of a direct sequel to the events in The Three. This will hopefully coincide with the paperback release.
Early readers' reactions to the ending have been divisive. Were you surprised or was it your intention all along to invite different interpretations?
I'm not at all surprised. My beta readers all had different opinions on the ending. Some felt it revealed too much and wrapped up the story too neatly, others thought it was too ambiguous. One of my brothers absolutely hated it; the other loved it! The style in which the book is written is also divisive and not to everyone's taste. But really, love it or loathe it, the worst thing anyone can say to me is "This book is dull." I'd rather a reader threw it across the room than find it boring.
You've written in different genres--horror, YA, sci-fi, erotica, thriller. What's most fun to write?
They're all fun in different ways. I love collaborating, as it's a massive learning curve for me. My collaborators on the erotica novels have taught me the art of the non-cringeworthy sex scene, collaborating with my daughter has taught me how to write teen dialogue that isn't "lame" (her word), and coauthoring with Louis has helped elevate my writing.
What genres would you like to tackle next?
I'm staying in the horror/thriller genre for the next few books. The only genre (if you can call it that, and I'm not sure you can!) that I won't be tackling is literary fiction. I'm aware of my shortcomings and I don't have the talent for that.
I disagree with that assessment! How would writing "lit fic" differ from all the different kinds of writing you've done?
It's a tricky thing to unpack, as I really loathe labels. So-called literary and so-called genre fiction cross over all the time. I think what I'm trying to say is that I lack the facility with language to make my writing truly nuanced. I tend to focus more on story and character and dialogue than on the poetry of words. It's my pulp-fiction background, I guess.
You're too humble. So, will your next novel also explore some kind of fear?
My next book is set on a cruise ship. The thought of being lost at sea surrounded by miles of empty ocean terrifies me. --Elyse Dinh-McCrillis, blogger at Pop Culture Nerd
Molly Wizenberg: A Man, a Woman, a Restaurant
Molly Wizenberg's first book, A Homemade Life: Stories and Recipes from My Kitchen Table, aside from being charming and funny, contains the best banana bread recipe in the world. That may have been the first thing I said to her after "hi" when I met her recently to talk about her new book, Delancey: A Man, a Woman, a Restaurant, a Marriage (Simon & Schuster, May 2014), an account of how a musician and a writer opened a very successful pizza restaurant. Wizenberg says that the banana bread is the one thing she's tried the most recipes for, but she keeps coming back to the original. Check it out here.
Then, sitting in the pizza restaurant of the title, the conversation turned to Delancey and its birth, fraught with DIY disasters, personal tensions and occasional thoughts of knocking over a bank and hiding out in Oklahoma.
You really should write a marriage manual after this. You lived through Brandon's obsessions with violin-making and perfect espressos, and aided and abetted his dream of a pizza place, all while maintaining a seeming patience and calm.
I'm glad that you read it as patience, because I struggled with it. If I get interested in something, I'm going to go for it, but I'm not going to tell anyone about it until I'm sure I can go for it, whereas Brandon has a more public way of going about it. That allows him to draw on more resources, which gives him a better chance of succeeding. One thing that drew me to him is the fact that nothing seems impossible for Brandon; he just goes after what he wants and does the work necessary to get there. He has a creativity and drive and a playful approach to life, he's gonna just be the best of what he wants to be. So even while I struggled with his not following through on these things, at the same time it was so closely related to what I loved about him. When we marry someone, or are committed to someone, there are always things that are not ideal. This was one of those things that privately I was working through. And I love him for it.
But you don't always play it safe. You took a big risk when you left your publishing job and grad school to be a writer.
I am only starting to see myself as someone who has taken risks. I have always thought of myself as being pretty risk-averse and change-averse, but I am just very cautious about what I undertake. Quitting graduate school to write: I had done it in such a way that it felt like I had a safety net, while it looked risky to other people. I had a job at University of Washington Press, so I had a way of earning a living.
After Brandon decided to master pizza and open a restaurant, you encouraged him while being afraid of the outcome.
I wrote this book because I was still trying to figure out why I struggled with this so much. I have more clarity now after finishing the book. Brandon and I were so newly married that I think I didn't know him very well. I didn't know that he was as savvy as he is about business. I knew that he was smart and resourceful and determined. But I didn't know that he could lead people, that he had a mind for business--so yeah, these things frightened me a lot since I knew him as a musician and a composer, albeit one who had a lot of different talents, but it scared the crap out of me. This could have been a very public--I'm not going to say failure, because I don't know I went that far, but I thought this would be publicly embarrassing if it didn't work out.
Now the book feels just as public. I feel like I am at my most vulnerable point with this book--but I got to sit around privately with people I trust and hash it out and make sure that I knew what I was doing before it goes public; whereas with the restaurant, it's so open and visible--you don't get to edit your mistakes.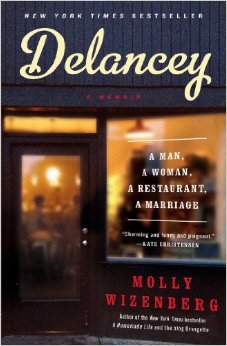 The season he was obsessed with dough, making and deconstructing recipe after recipe--were you surprised at his capacity to stick with something for the long run?
That was a big part of what scared me about this. I had only seen him get passionate about things and then move on. But he always saw this an ongoing challenge of pizza. The dough is a living organism, it is different every day. The oven is a little different every day. If it isn't heated properly in the afternoon it will be a problem all night--there is nothing that can be done to fix it. I think if there is one description that sums up Brandon, it's that he is a problem-solver. Pizza is the ultimate problem. That's why he stuck with this.
You said at one point, "You are a slave to the dough." You're very funny.
That was a big goal of mine with this book. I'm not very good at seeing the big picture, but I came to the place where I realized I really like funny writing. A goal for me with the book--in part because it was such a serious, difficult time in my life--was that I really wanted some humor in the book.
One of the themes throughout the book is the collegiality of people in the business. Is that peculiar to Seattle? That doesn't seem to mesh with other accounts of the restaurant business.
We would never have opened this restaurant if we were still in New York or San Francisco, for instance. Brandon worked in a lot of restaurants before he came to Seattle, and he never found one that fit right, or had the camaraderie that he found at Boat Street [in Seattle]. Brandon was telling me recently that [founder] Susan [Kaplan] kept encouraging him to open his own place. She didn't have to do that. I don't know if it's because the Seattle restaurant market is still so much in development, or it's not too crowded yet. I don't know if that's why people are nice and helpful and collaborative. I was watching the Pearl Jam documentary and they were talking about the Seattle music scene in the '90s; one thing that kept coming up was the profoundly collaborative nature of music in Seattle--I don't know if it's something in the water or the rain or the coffee... but I feel very grateful to have a restaurant here and not somewhere else.
You and Brandon have a gift for making friends that seems to go beyond the self-selection of the restaurant business.
I feel like that's really Brandon. My world expanded many times over when he moved here and we got together. I'm quite introverted, he's quite extroverted and generous to a fault. Brandon is an incredibly compassionate person, and part of what he loves about this place--apart from the challenge of the dough--is that he genuinely loves the people he gets to work with.
I've never been interested in the cult of the celebrity chef. I have an endless appreciation for people who devote their lives to feeding other people. But the way we talk about chefs right now is really silly. I resist the glamour that a lot of people attribute to restaurants. I worked at Greens in San Francisco when I was 20--I thought I wanted to go to culinary school and be a pastry chef. They were incredibly kind to me, but the bottom line was that I really hated it. What I had always loved about food--and I didn't realize this until the summer I was at Greens--was people. The interactions that food facilitates--cooking with people, sitting around the table with people--it's how I've always spent time with people I care about. It's a way to connect. But when you're in a restaurant kitchen it is just "food." It's repetitive, and you never get to see the people who are eating it. It's like a one-way conversation. So part of why I felt so threatened by Delancey was I had no idea where on earth I fit into it. The other thing was the worry because restaurants have a notoriously high failure rate, and it wasn't like we were swimming in money. I also worried because I didn't know that Brandon could succeed at it. It was very hurtful to him at the time that I didn't just believe in him. But I really struggled. I was deathly scared.
You have also created, it seems, an enlightened place to work.
I hope so! It's a constant struggle. We've had to change some things since I wrote the book. We first hired people who were not trained cooks, but now we have people who are professionals, so it's very different than it was a year and a half ago. But I feel like we were really clear that we were not interested in the sex, drugs, rock 'n' roll side, and we wanted to work with people who have the same values. We want to serve delicious food in a warm, welcoming environment--that is always what we are trying to do here. It's taken a lot of trial and error, but we have been incredibly lucky to find good people.
Being home alone, and away from Delancey, you lost the rhythm of your previous life.
I can hardly remember what it was like to cook dinner with Brandon every night! It was a huge loss in the beginning, but I don't want to say I'm used to it now because that sounds like a defeat. Brandon and I cook lunch together several times a week, we cook dinner Tuesday and go out to dinner Monday, so we have a new balance. Now it's not a loss, and every evening I can come by Delancey with our baby (our house is a few blocks away) and be surrounded by friends. That's pretty incredible. Our family has greatly expanded, and that came out of something that scared the heck out of me. --Marilyn Dahl, editor, Shelf Awareness for Readers
Book Reviews
Fiction

Bloomsbury, $26, hardcover, 9781620408612
Random House, $26, hardcover, 9781400062126
Starcherone Books, $14, paperback, 9781938603204
Soft Skull Press, $15.95, paperback, 9781619022959
Mystery & Thriller

Ecco, $25.99, hardcover, 9780062259653
Little, Brown, $26, hardcover, 9780316242905
Science Fiction & Fantasy
Pyr, $18, paperback, 9781616149017
Biography & Memoir
Crown, $26, hardcover, 9780307889751
Essays & Criticism
Farrar, Straus & Giroux, $26, hardcover, 9780374261207
Science
ECW Press, $17.95, paperback, 9781770411906
Children's & Young Adult

North-South, $19.95, hardcover, 96p., ages 7-10, 9780735841673
Schwartz & Wade/Random House, $17.99, hardcover, 9780375858888
Creston, $16.95, hardcover, 36p., ages 4-7, 9781939547071
---